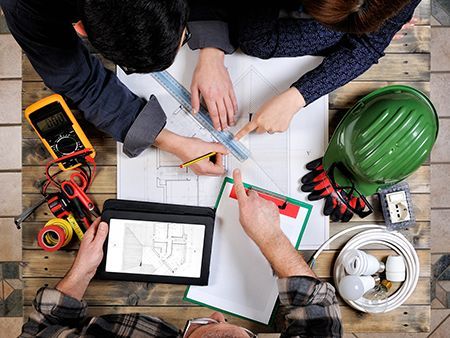 How to Settle a Property Line Dispute
Have you dealt with complaints about a tree in your yard that drops pinecones on your neighbor's property? Do you have a neighbor looking to build a shed or overhang that comes dangerously close to your property?
If so, you need to clarify your boundary lines as soon as possible.
Whether you own hundreds of acres or live in a subdivision, every home has property lines. If you're dealing with a possible dispute, use this guide to help you navigate the issue and come to a peaceful solution.
5 Steps to Resolving Property Line Disputes
Property lines are a legal description of invisible boundaries around your property that separate it from your neighbors. Every private and public property has a line that distinguishes it from another.
There are several ways to resolve a boundary line dispute, but you want to go with the most amicable option for your sake. Given that you're having this discussion with your neighbor, you don't want things to get ugly, so it's essential to maintain the peace for as long as possible.
Step 1: Talk With Your Neighbor
A simple conversation with your neighbor before either one starts a project near the property line is a great way to avoid frustration and a legal battle. Afterward, document your conversation and send a letter that reiterates it so that you have a paper trail should the problem continue.
Step 2: Install a Fence
One of the best ways to prevent a property line dispute is to install a fence. As long as your fence is on your property, you shouldn't have any issues.
When you use a fence, you mitigate future problems by clearly outlining your property.
Step 3: Conduct a Property Title Search
If your property line dispute escalates past an amicable stage, you need to find official documentation that outlines your property. Although a title search costs money, it's a great way to try and settle the dispute.
Step 4: Hire a Land Surveyor
A land surveyor is an individual who comes to your property and uses measuring tools to conduct a land survey and settle the dispute. Because a land surveyor doubles as a legal arbiter, you can use their measurements as evidence if your argument goes to court.
Before having someone come out, it's best to speak with your neighbor and let them know what's happening so they don't feel defensive.
Step 5: Find a Lawyer
If all else fails, you need to find a lawyer. Even though a land surveyor's measurements hold in a court of law, some people will still fight against it. Find a real estate attorney who can end the boundary dispute outside of court if you need legal representation.
Conclusion
Property line disputes are one of the worst things about homeownership. If you find yourself nearing a disagreement, follow these steps for the most amicable solution possible.
However, if you live in northern Arkansas and reach step five, contact Hickey and Hull Law Partners. We can help you settle this dispute once and for all.