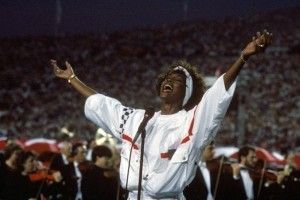 What Can We Learn From Whitney Houston's Life and Death?
The latest music bombshell was dropped around 7 p.m. eastern time last night as the news spread about the death of Whitney Houston.  She was known as an incredible talent, with an angelic yet powerful voice.  Her rendition of the national anthem at Super Bowl XXV is still widely considered one of the greatest renditions of the anthem in history.
If you know much about Whitney's life, you know that it was a constant roller coaster of ups and downs.  Her relationship/marriage to Bobby Brown was incredibly turbulent, not to mention downright damaging.  There were also episodes of drug abuse over the past 20 years.  But Whitney was making a comeback in recent months and many had high hopes for her.  Which makes her death even more tragic.
Dr. Boyce Watkins, professor at Syracuse University, writes about 5 lessons that we can take from Whitney's death.  I encourage you to read this excellent article...Five Lessons We Can Learn from Whitney's Life and Death.